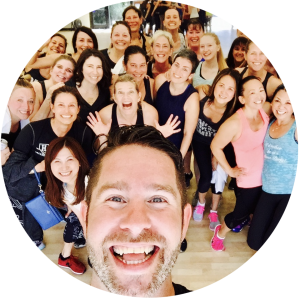 Most recently, Matt established and led his own successful dance fitness company—Dance Sweat Smile—based in the San Francisco Bay Area, California. As the sole employee of Dance Sweat Smile, he was responsible for all front-and-back-end business operations, which included: choreography and instruction, creating and selling clothing and merchandise, and creating an online community through an interactive website, social media and the filming and editing of instructional dance videos. All while keeping everyone smiling and drenched in sweat! He was successful in growing the company into an open and welcoming dance community full of dancers of all ages and dancing ability.
Prior to starting Dance Sweat Smile, Matt spent a decade as a professional dancer. After graduating from the University of California, Santa Barbara, with a B.A. in Dance, he moved to New York City and had the privilege to dance with several professional companies and to tour the world.
During his time in the San Francisco Bay Area and while in New York, Matt was a member of Cheer San Francisco and Cheer New York—two affiliated volunteer adult cheerleading teams that raise money for charities focusing on life threatening illness.
Matt remains full of life and energy and finds his joy by bringing joy to others. He has a passion for all things movement and above all dancing.